the men in black - Focus on Football Referees
-by gasper crasto

From Brazil to Portugal, Calcutta to Goa, Kazhakastan to Kuwait, the men in black in football are always under fire - from all sides, often for alleged incompetence, sometimes for skeptical blunders.

First of all, the nice thing about football is that it is - or is supposed to be - the same everywhere in the world. Yet refereeing standards and even interpretations vary from country to country. A slight push or harmless tackle in the penalty area in some part of the world (as seen in games and watched on TV) is sometimes given a penalty, whereas in other parts, you can often butcher a guy in the penalty area and not hear a whistle.

The Italian referee Pierluigi Collina who officiated in the 2002 World cup final is seen by many to be one of the world's best referee and most fearsome (Fearsome, perhaps because, with his distinctive bald head, sunken eyes and creepy expressions, Mr. Collina is a classic post-mortem ghoul who looks as if he's just been dug-up). Our own Goa has produced outstanding referees such as Peter Rodrigues and Anthony DCosta who managed to create terror on the football field before they had even blown the whistle. Ex-FIFA Referee, late J. P. DMello, and famous International referee Melwyn DSouza too I am told were world class referees.

Amateur Indian Referees doing the duty in Kuwait may not fall anywhere near to professional standards, but they too are considered the Indian Expatriate football worlds - men in black, the ones with all the power on the football field. But these part-time hapless wonders do not always receive due admiration for their generous efforts.

It is a referees job to keep the game flowing and to make it as safe as possible for the participants, but it is not as easy as many people seem to think. The referee is faced with 22 men kicking a ball around, most of whom, want to win at any cost (which includes cheating, physical intimidation and even, sometimes, excessive amounts of skill). Part of the referees task is to protect those who want to play from those who want to kick lumps out of their betters. They are expected to make split-second decisions, placate angry participants, and display a superior knowledge of the laws of the game, where necessary caution or send-off is warranted. (It's a dirty job, but someone's got to do it).

As an individual (a player, referee myself, a spectator) I have many opinions on the consistency, abuse and the standard of refereeing in local games and in the world in general.

As a player
Each player would like every referee to come out and give the best decisions match in and match out, but it just doesn't happen. Why? Well, each referee is different; each has his own view of whats acceptable and whats not. Each of us sees the game differently. The centre referee has to keep his eye on all that is going on, but from other parts of the field or from the touch line we get a completely different view, one that makes you see and hear the frustrations of club officials and supporters.

Referees are only human and like any player they too make mistakes and have bad games. Some referees call many fouls while others don't. It totally depends on each referee's personality. But, certainly, after games it is easy to be critical of referees in hindsight, and I think referees do make some blunders.

But, in every sport, mistakes occur, so we have to accept that. I understand some player's anger though, especially when decisions are silly. However, even if referees actually made mistakes, we shouldn't complain and go on about it forever because people who have played football should know the results aren't going to change.

As a referee
As a referee, at any point - and if I so desired - I could pick up the ball and walk away. Match abandoned. I can stop players leaving the field or coming back on. I can order men to remove their wedding rings or other jewellery (even if I dont consider them dangerous). I can even deny someone the right to participate in the match because I think he is not properly attired. In short, I say what goes. It is my kingdom and I am all powerful. Of course I don't always exercise my might because I am a generous person in charge, and I'd like to keep all my teeth! Generally I affect a suitable compromise. And anyway, who'd want to spend their Friday mornings being abused by twenty-two football players, and their supporters?

Conclusion: Officials cannot freely officiate if they labor under the threat of intimidation and assault by players and officials.

As a spectator
Whenever I am watching a game, I usually concentrate on players' performances and don't pay much attention to referees. So, I think they are doing well unless there is a deadly mistake and the ref is at the centre of everybodys attraction. But even if they dont do any mistakes, referees have to withstand frequent tirades of abuse.

No matter how best the referee tries to be, we find matches are loaded with dubious, match-changing decisions, including being sent off unnecessarily, and legitimate goals or off-sides disallowed. Some of the referees are guilty of grave blunders, notably denying even match-winning goals.

Are referees just bad? No. You find even the best and most accepted referees make totally wrong decisions. But what is a wrong decision? Some cases are clear. But most are controversial. Many of the controversial situations are in a grey area that has to be interpreted and can be either interpreted this or that way. This is a property of the game.

People who play football have for a long time accepted that the referees decision is final, even when he's wrong. But there are some who display dirty unsporting spirit even after having played for donkey years (and having a history of representing reputed outfits). Rightful goals or handballs in the penalty area (unnoticed by officials) are sworn denied, and later the same players are heard boasting in public about fooling the referees.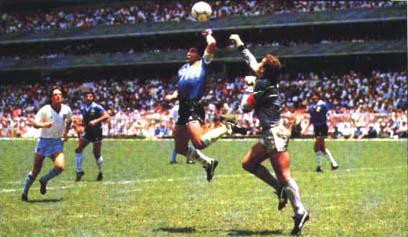 Most famous sporting picture in the world, Maradona's Hand of God
Happily, controversial episodes shape football hugely all the time in almost every other game, but only the world famous are remembered. Fans still discuss whether the ball crossed the line after hitting the crossbar (off a shot by Englands Geoff Hurst for the controversial 3-2 lead in extra time) in the 1966 World Cup Final between England and West Germany which England won 4-2; or how Diego Maradona got away with his 'Hand of God' goal against England in the 1986 World Cup. Every supporter has a hard luck story, and these only add to the game. In the 1990 World Cup, the Germans triumphed when Andreas Brehme converted an 85th-minute penalty awarded by Mexican referee Edgardo Codesal Mendez for a debatable foul on Rudi Voeller, one of several abysmal refereeing blunders which remain in history.

Anyway it is totally unsatisfactory that so much of a match decision lies in the hands of a person who is the BEST when he is not noticed at all.

Among Indian expatriates in Kuwait where football is played more as an entertainment sport than hard core competition, people who think they can do a better job in refereeing should come forward and volunteer to officiate, or, considering how many times we are forced to watch (all over the world) what we think as a refereeing blunder (which will change the course of a game or even ruin it in its entirety), the potential for officials to make questionable decisions or mistakes during a match should be welcomed - not criticized.

Most Federations keep the football as one thing, with the same rules for everybody. However, they should work even more closely with officials to make sure they implement the rules properly. Of course, every governing body has classes and symposiums to inspire officials. But football is not just about acts of inspiration - moments of madness are equally important.

The administrators are the guardians of the game and, like it or not, they should be in control. They should keep a closer eye on what goes on. If certain situations go out of control, they should step in with a mandate to enforce their technicalities appropriately and in a just manner. Players, officials, clubs and even referees found guilty of bringing disrepute to the game should be dealt and penalized equally and with wise verdicts.

We all know that the game's authorities try their best to make the game appealing to everybody, but they should work even harder to inculcate more interest and enthusiasm; and at the same time, protect the most vulnerable people on the field the men in black.