Savio Medeira - "The eMail Interview"
- by gasper crasto
At the start of a new season, Savio Medeira, the Head Coach of Salgaocar Sports Club, speaks exclusively in this eMail Interview specially done for www.goa-world.com.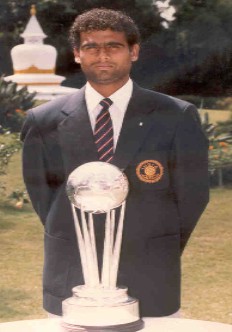 Savio Medeira needs no introduction to football fans among Indians. He has been the beating heart of all Goans and a household name ever since he came into limelight with the Goa Juniors team.
After terrific performances at the school and college level, Savio was picked up for the Goa under-19 side. A successful show for the state team at the junior level opened the doors for more challenging prospects which saw him play for Salgaocar Sports Club and dominate the midfield with mesmerizing skills from 1983 to 2000.
He was a regular in the Indian squad throughout his playing career and delighted football lovers in India and abroad with great performances but as a coach his influence on Salgaocar Sports Club's recent success is greater still.
Within a few years, Savio has shown prolific progress with his creative coaching abilities which now ranks him among the top deck of Indian coaches. He has been able to inspire his players with the same charismatic ability which he possessed as a player and his guidance has seen Salgaocars Sports Club finish the 2002-03 season as the Professional League Champions of Goa and Runners up of the All India National Football League (NFL).
Recently, Savio completed License 'A' Coaching Exam conducted by the Asian Football Federation (AFC) in first class honors and has been chosen by AFC to undertake a grade in Professional Coaching License abroad.
Savio's presence in India's football arena over the years has made him an icon of Indian Football and an idol for many youngsters.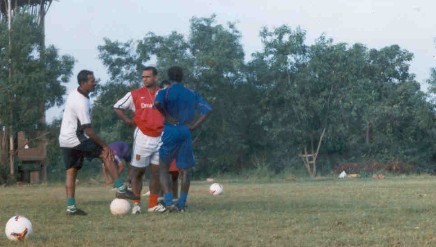 Savio at Salgaocar's training session.
Q. Who has been the most inspiring force in your profession as a coach?
Savio: To name a particular person would be very difficult as there are many personalities who inspired me to take up the profession as a coach.
Q. Who according to you has been the best coach you have played/worked under? What are the biggest lessons you have learnt from him/them?
Savio: Although I have played under many coaches, one coach, former Olympian, Mr. T. Shanmugam stands out top for his coaching abilities and his strict discipline not only on the field but off the field too. All the coaches I played/worked under, not only taught me the finer points of the game but also to be a better human, sincere to the game and to always lead an exemplary life.
Q. Do you emulate any world cup coach or do you have your own style?
Savio: No, I have not delved deeply into any world cup coaches training methods, I follow my own style of coaching.
Q. Who are your assistants in the team and what are their responsibilities?
Savio: My assistant is Bharat Morje, who looks after the goal-keeping department. He has been a great help to me.
Q. Who are the prominent recruits for Salgaocars this season? And who are/(going to be) your prospective foreign players?
Savio: We have recruited two goalkeepers Rajat Goshdasdidar from Mohan Bagan and Rajat Guha from Air India. In the defense, we have taken Anthony Pereira from Mahindra United and Remus Gomes from Fransa FC. Savio Pereira from Fransa FC, while Narendra Meetei from Air India is added to our strike force. We have also recruited 7 of our under-19 players and 5 junior from Sesa Football Academy. Regarding Foreign players, at present we have defender Belo Razaq from Nigeria. We intend to recruit two more foreigners this season, a defender and a striker.
Q. What qualities do you look for in a player?
Savio: Positional sense, vision, speed, physique and good technique.
Q. Who is going to be your captain this season?
Savio: Climax Lawrence.
Q. What is the field-formation adopted by you? Do you change the formation according to your opponents?
Savio: Mostly it is 4-4-2. Yes, it varies sometimes according to the opponents.
Q. How do you rate the present squad to your previous ones? Do you miss any significant names?
Savio: Not very high. Although todays game depends more on strength and speed, we miss our stalwart players like Brahmanand, Anthony Rebello, Lawrence Gomes, Derrick Pereira, Maurice Alphonso, Roy Barreto and Bruno Coutinho who had a distinct class of their own which thrilled the soccer loving people.
Q. What are your team's goals for the season ahead?
Savio: To aim higher & higher.
Q. Who are your major challengers at the National level?
Savio: East Bengal, Mohan Bagan, Mahindra United, not forgetting our own Goan clubs.
Q. What are your aims for the Federation Cup?
Savio: To do well & to give a flying start to the new season 2003-04. We will also be able to assess our strengths & weaknesses vis-à-vis top teams of the country participating in the tournament.
Q. Your comments in media reveal that Salgaocars are more comfortable playing at home. Is it true?
Savio: No doubt, playing in front of the home supporters is always an added advantage which raises the morale spirit of the team. But of late, we have also been doing better outside than at home.
Q. What is your strategy playing against Bengal teams on their grounds?
Savio: To hold your nerves and to try to contain them for the first 20 minutes, when most Bengal teams try to go all out to take a lead. Once you contain them, then we should put pressure and play an attacking game.
Q. Do you think the National Football League (NFL) and other club tournaments are shadowing the once prestigious Santosh Trophy? What should the AIFF do to get back its high esteem?
Savio: According to me, Santosh Trophy should be held for under-21 boys only where we will be able to unearth new young talent as these youngsters hardly get any exposure throughout the year. The senior players should be allowed to forgo this tournament as it will be too taxing on them after a grueling local league & the NFL.
Q. You have been keeping a low profile despite now being an established crusader among coaches in Indian Football arena. Can you explain?
Savio: I am just a beginner and I want to keep a low profile as I am still in the learning process and have miles to go. I keep a track on the training methods of other coaches and pick the best from them.
Q. What are some of your greatest satisfactions from coaching?
Savio: My first match as a coach against Punjab Police in the Federation Cup in Chennai in 2001-02 which we won. This match will always be remembered.
Q. Which has been the most memorable moment for you so far as a coach?
Savio: Our NFL match against Mohan Bagan which we played on our home turf at Margao. We were down by 3 goals within 20 minutes and our supporters had given up hopes of a come-back. Then suddenly there was a transformation in our play and the whole stadium egging our boys. We scored 4 goals to pull off an astonishing win.
Q. To whom do you attribute your success?
Savio: First of all, to Almighty God and to my family and friends who have always backed me in difficult times.
Q. What advice do you have for a young player about training and practice. What do you feel is important for them to work on and develop?
Savio: To love the game and devote time for it. Also to be disciplined, practice seriously as nothing succeeds like Hard Work.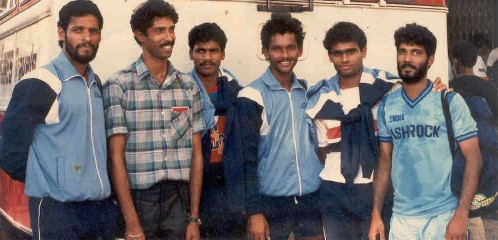 With Norbert, Brahmanand, Camilo Gonsalves, Derrick Pereira and Mauricio Alphonso at the India Camp.
Savio P. Medeira: Personal Profile
Birthday: 20th Pisces
Wife: Judith
Children: Snedden and Sasha
Fact File (State and National Representation)
| | | |
| --- | --- | --- |
| Year of Representation | State level Representation | National level Representation |
| 1983 | Dr. B. C. Roy Trophy (Goa) Winners. | - |
| 1985 | Dr. B. C. Roy Trophy (Agartala) - Captained the side. | - |
| 1986 | - | 25th Asian Youth Championship (Jr. India) at Quetta - Pakistan and Riyadh - Saudi Arabia. |
| 1987 | Santosh Trophy, Kolkata. | Jawaharlal Nehru Gold Cup Calicut. |
| 1988 | Santosh Trophy, Assam. | - |
| 1989 | Santosh Trophy, Quilon. | Super Soccer (Sao Paulo Brazil) at Delhi, Bangalore; 6th Presidents Gold Cup Bangladesh; Jawaharlal Nehru Gold Cup, Goa. |
| 1994 | Santosh Trophy, Orissa. (Captained the side). | - |
| 1995 | Santosh Trophy, Chennai. | Jawaharlal Nehru Gold Cup Kolkata; Bristol SAARC Gold Cup, Colombo - Runners-up. |
| 1996 | Santosh Trophy, Goa - Runners up. | Exposure trip to Iraq; Pre World Cup qualifying round. Doha - Qatar. |
| 1997 | - | 1st SAFF Championship, Nepal - Winners. |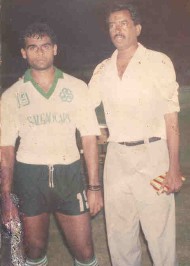 With Salgaocar SC Team Manager Mr. Leopold Fernandes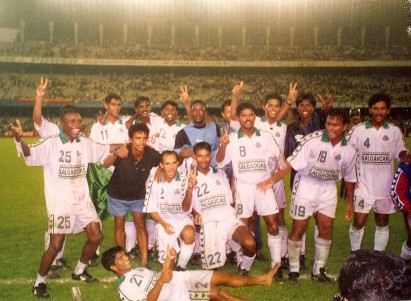 Champions of Federation Cup 1997, Calcutta.
Savio Medeira - Honors with Salgaocar Sports Club
(Salgaocar Sports Club: Founded in 1956)
Year

Tournaments in Goa

Outstation Tournaments

1983-84

First Divn. League - 4th Position; XV Bandodkar Gold Trophy - Runners-Up. Lost To Dempo 0-2.

Staffords Challenge Cup - Bangalore-Runners Up; Nehru Gold Cup-Hyderabad - Winners. Beat Punjab Police 1-0

1984- 85

First Divn. League - Winners; Super League- Champions.

Sait Nagjee, Kozikhode - Runners- Up. Lost To Dempo 0-2; IXth Visakha Trophy, Vishakapatna - Runners- Up. Lost to Mohammedans 0-1.

1985-86

First Divn.League - Runners Up; Super League- Champions.

85th Rovers Cup, Mumbai - Runners-Up. Lost to Mohan Bagan 0-2.

1986-87

First Divn League Winners (Unbeaten); Super League Runners Up; Super Soccer Winners - Beat Varca in the Tie-Breaker 5-4.

-

1987-88

IXth Police Cup Jt. Winners with Salcete; Taca Goa Winners. Beat Dempo in the Tie-Breaker 4-3;First Division League Winners; Super League Runners Up.

XIth Federation Cup, Cuttack Runners Up. Lost To Mohan Bagan 0-2; 31st Sait Nagjee, Kozikhode Winners; XVIIth Bandodkar Gold Trophy Winners.

Beat Mahindras 4-0

1988-89

First Division Runners Up; Super League Winners.

XIIth Federation Cup, Delhi Winners. Beat BSF 1-0

1989-90

Taca Goa Winners. Beat Vasco SC 3-0.

1990-91

First Division League Winners; Super League Champions.

XIVth Federation Cup, Trichur Runners Up. Lost to Kerala Police 1-2; XVth Naidunia Trophy, Indore Winners. Beat BSF 1-0;

Xth Asian Club Championship, Gr. IV Qualifying Round at Dacca, Bangladesh. * 17-7-1990 V/S Lagoons Maldives: 3-0; 21-7-1990 V/S Dacca Mohmeddans: 1-2

1991-92

First Divn League Runners Up - Captain for the Season.

XXth Bandodkar Gold Trophy Winners Beat MPT 1-0

1992-93

First Divn League Winners - Captain for the Season.

XIIth Naidunia Trophy Winners. Beat JCT 1-0.

1993-94

First Divn League 4th Position; Super League Champions - Captain for the Season.

XVIIIth Federation Cup, Margao Runners Up. Lost to Mohan Bagan in the Tie-Breaker 0-3.

1994-95

First Divn League Group B Winners.

XXIth Bandodkar Gold Trophy Runners Up. Lost to Dempo 0-2.

1995-96

First Divn League Runners Up.

1996-97

First Divn League Group B Winners.

96th Rovers Cup, Mumbai Winners. Beat Air India 1-0; Philips I National Football League 7th Position.

1997 98

First Divn League Runners Up.

Kalyani Black Label Federation Cup held at Guwahati-Hyderabad-Kolkata Winners. Beat East Bengal 2-1; Philips II National Football League 3rd Position; Super Cup, Kolkata - Winners. Beat Mohan Bagan 1-0

1998-99

Carvalho Memorial Trophy Winners. Beat Churchill Bros. 3-0; Goa Professional League Winners.

98th Rovers Cup, Mumbai Semi-Finalist; Coca-Cola - III National Football League Winners.

1999-00

Governors Cup Winners. Beat Churchill Bros 1-0; Goa Professional League Runners Up.

99th Rovers Cup Winners. Beat Churchill Bros. 1-0; Durand Cup Winners. Beat Churchill Bros. 1-0; Super Cup Winners. Beat Mohan Bagan 1-0; IVth National Football League 3rd Position
"The eMail Interview" also appears in "Goan Sports News - World Wide" section of Goa World. Click below:


E-mail this Page to a Friend